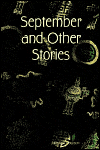 Genre
Horror
Publisher
Lulu
Year Published
2005
Review Posted on
8/11/2005
Reviewer Rating

September and Other Stories, by Julie Ann Dawson
Reviewed by Justin Chapman

If you've read this book, why not
---
I first discovered Julie Ann Dawson's work in the electronic magazine Demonground. I was floored by her strong use of dialogue to move a story, so when I found out she had released a collection of her work I had to check it out.

The collection certainly lived up to all expectations. Dawson's stories are powerfully character-driven, and her tone and word choice really gives the reader the feeling of being there with the characters. Occassionally, the stories are TOO dependent on the character, however, which is the case in the flash fiction piece "Bad Karma." The protagonist really doesn't have any redeeming qualities, so the ending leaves the reader with more of a "he got what was coming to him. Move on" feeling than a "that was scary" vibe. Fortunately, such lapses are few.

The best piece in the collection is also the longest. The novella "September" (along with the two 'prequel' stories "A Candle for Imbolc" and "The Horror in the Attic") is an interesting blend of Lovecraftian horror and the action/adventure stylings of an "Indiana Jones" or "The Mummy." Dawson deftly jumps back and forth between dark horror suspense and campy comedy to create an entertaining and occassionally heartpounding tale of ghosts, curses, murder, and tentacled monsters in the deserts around Cairo.

This collection includes 16 short stories and poems in all. The book would make a great addition to any horror/dark fiction library, and I am looking forward to the author's next work.
Add a comment on September and Other Stories, by Julie Ann Dawson
Comments on September and Other Stories, by Julie Ann Dawson
There are no comments on this book.
Follow on Twitter
SFReader on Facebook
Top Rated Books


Fictitious Force
by Various Authors